rossinghe oundaries
Paintings by Gaylen Stewart and Poetry/Text/Music by Steve Scott
A collaborative and multi-disciplinary, art project.
The Ohio Arts Council helped fund this project with state tax dollars to encourage economic growth, educational excellence and cultural enrichment for all Ohioans.
---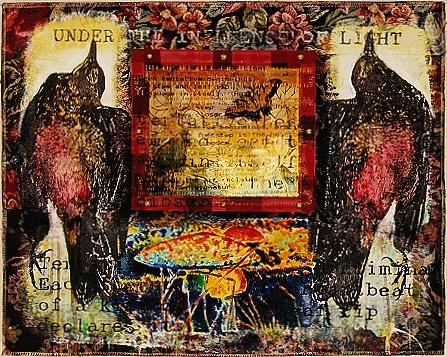 UNDER/LIGHT
acrylic, ink, velvet, fabric, photocopies,
agate, wire, light, audio recording
24" x 30" 12/97
SOLD
All images copyrighted © 1998 by Gaylen Stewart
Poetry/Text/Music copyrighted © 1998 by Steve Scott
gaylen@gaylen.com
---
NOTICE:


You may download images for your own personal use or educational use in a classroom setting . Any commercial use, reproduction for income, or any other mass media uses are strictly prohibited without prior written approval from Gaylen Stewart.