rossinghe oundaries

Paintings by Gaylen Stewart
and Poetry/Text/Music by Steve Scott
A collaborative and multi-disciplinary, art project.

The Ohio Arts Council helped fund this project with state tax dollars to encourage economic growth, educational excellence and cultural enrichment for all Ohioans.

gaylen@gaylen.com and/or thescotts@ttns.net
We appreciate your comments

The Esther Allen Greer Museum, University of Rio Grande,
Rio Grande, OH 45674. Jan-Feb 1998
All images copyrighted © 1998 by Gaylen Stewart
Poetry/Text/Music copyrighted © 1998 by Steve Scott

tatement

This project explores themes connecting the spiritual and the natural, symbols and objects, images and text, sound and perception. We are interested in the processes and patterns that emerge from the overlap of our interests, concerns and working methods. We desire to create art that will cross boundaries artistically and intellectually.
An ongoing exchange took place between California and Ohio throughout the project. Ideas for poems, random word-groupings and text/thoughts were mailed, as well as were ideas shared for the imagery that would develop from these sources. The poetry grew in many directions-- chance poems, digital textual rearrangements and more traditional forms. The imagery evolved: manipulated, projected, printed, painted, reworked and layered. Tape loops of background tracks were created to accompany the audio portion. Steve, accompanied by his daughters, recorded the bird songs that later were slowed, staccatoed, patterned and merged with the instrumentation. Later, words were added to the tape loops and songs/sounds.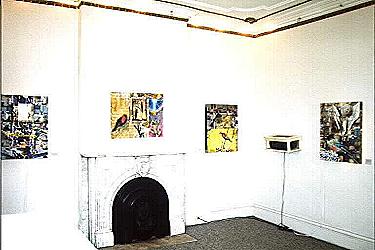 Trumbull Art Gallery, Warren, OH 44482 Feb-Mar 1998
Since some of Steve's poetry was derived from a 19th century botanical textbook, plant and floral imagery were reproduced from my personal photographs and photocopies that he mailed to me. I copied sections of Steve's text methodically onto the paintings from his typed pages. I felt that this exactitude brought his words in more direct contact with the paintings. I made transparencies of Steve's poetry and botanical images, then manipulated, distorted and combined them with diagrams, gum prints and bird pictures and adhered them to the painted surfaces, printed fabric, metal pieces and photographs.
As an installation, the overall developing pattern of the project is enlarged by each person's individual viewing process and unique interpretation. Individualized "mapping" from painting to painting expands the boundaries of the project through rearrangement of context and personal associations. This adds an interesting, social/cultural dimension to the work.
Through this project we found similarities exist in the manner that we both combine several media in order to express our artistic vision and in the use of autobiographical imagery and reliance upon experiences from a wider frame of reference-- "art historical" and/or "multi-cultural." These parallels culminated in a project that challenged us artistically and intertwined our disciplines into a new form that neither of us had previously, fully envisioned.